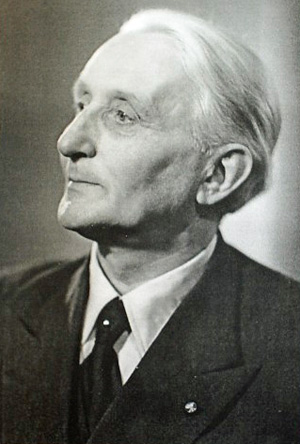 Berend Tobia Boeyinga, born in 1886, worked during his study for architecture as an overseer for the offices of -a.o.- Eduard Cuypers, and Michel de Klerk whose famous residentional building het Schip (the Ship) he realized. After graduating in 1919 with a design for a new parliamentary building, he becomes architect for the Amsterdam municipality in 1921. In this function he was involved in large housing projects for garden villages in Tuindorp Oostzaan en Tuindorp Nieuwendam in Amsterdam-Noord. During this work he participated in several competitions for churches.
In 1926 he became an independent architect, designing his most expressionist church the next year. This extraordinary building, originally called Kloppersingelkerk and later Koningkerk, was two-storeys high, consisting of three fan-wise arranged 'naves' with a total of 1200 seats that provided a good view at the pulpit. Remarkable for a church of this denomination were the sculptures of several protestant leaders at the entrances. In March 2003 the church was completely destroyed by fire.
Boeyinga was, besides C. Kruyswijk, one of the few architects of the Amsterdam School who designed churches. According to the ideas of the leader of the Reformed movement, Abraham Kuyper, about religion, art and architecture, Boeyinga tried to design optimal centralized churches. After having designed in Expressionistic style for many years in the late 1930's he experiments with other styles as well. After World War Two he restores several churches as well as building several new ones. (Radboud van Beekum Foundation Boeyinga - Nieuwe Amstelstraat 68 1011 PM Amsterdam The Netherlands).

ARCHITETTURE
1921 - 1924, Garden village Oostzaan
1926 - 1927, Reformed church
1927 - 1928, Reformed church
1940 - 1963, Restoration Cunera-church
1946 - 1961, Restoration Eusebius-church
1954, Reformed Pniël-church
«Ogni mattina mi sveglio nei panni di un imbecille e cerco per tutto il giorno di uscirne.» Le Corbusier