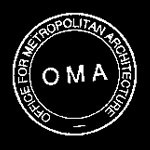 Office for Metropolitan Architecture
ABOUT OMA
The Office for Metropolitan Architecture (OMA) is a leading international partnership practicing contemporary architecture, urbanism, and cultural analysis.

The office is lead by six partners: Rem Koolhaas, Ole Scheeren, Ellen van Loon, Reinier de Graaf, Floris Alkemade and Managing Partner Victor van der Chijs.

To accommodate a wide range and diversity of projects throughout the world, OMA maintains offices in Europe (OMA Rotterdam), North America (OMA New York) and Asia (OMA Beijing).

FIRM HISTORY
OMA was founded in 1975 by Rem Koolhaas, Elia and Zoe Zenghelis and Madelon Vriesendorp as a collaborative office practicing architecture and urbanism.

The office gained renown through a series of groundbreaking entries in major competitions: Parc de la Villette, Paris, France (1982), ZKM, Karlsruhe, Germany (1989), Tres Grande Bibliotheque and Two Libraries for Jussieu University, Paris, France (1993). During these formative years OMA also realized ambitious projects, ranging from private residences to large scale urban plans: Villa dall'Ava, Paris, France (1991), Nexus Housing, Fukuoka, Japan (1991), the Kunsthal, Rotterdam (1992) and the House in Bordeaux (1998). In 1994 OMA completed Euralille, a 70-hectare business and civic center in northern France comprising the European hub for high-speed trains.

Since 2003 OMA has completed numerous projects including the Zeche Zollverein Historical Museum and master plan in Essen (2006), the Seoul National University Museum of Art (2005), the much acclaimed Casa da Musica in Porto (2005), the Prada Epicenter in Los Angeles (2004), the Seattle Public Library (2004), the Leeum Samsung Museum of Art (2004), the Netherlands Embassy in Berlin (2003) and the IIT Campus Centre in Chicago (2003).

The work of Rem Koolhaas and OMA has won several international awards including the Pritzker Architecture Prize in 2000, the Praemium Imperiale (Japan) in 2003, the RIBA Gold Medal (UK) in 2004 and the Mies van der Rohe – European Union Prize for Contemporary Architecture (2005).

PARTNERS

Rem Koolhaas founded the Office for Metropolitan Architecture in 1975 together with Elia and Zoe Zenghelis and Madelon Vriesendorp. Having worked as a journalist and script writer before becoming an architect, he graduated at the Architectural Association in London and in 1978 published Delirious New York, a Retroactive Manifesto for Manhattan. In 1995, his book S,M,L,XL summarized the work of OMA and established connections between contemporary society and architecture.

Rem Koolhaas is a professor at Harvard University where he conducts the Project on the City, a research program investigating changing urban conditions around the world. The projects include a study on China's Pearl River Delta (published as Great Leap Forward), an analysis of the role of retail and consumption in the contemporary society (The Harvard Guide to Shopping), and studies on Rome, Lagos, Moscow and Beijing.

Rem Koolhaas is heading the work of OMA and AMO, the conceptual branch of OMA focused on social, economical and technological developments and exploring territories beyond architectural and urban concerns. With AMO, Rem Koolhaas was guest editor of Wired magazine and creator of the exhibition 'Expansion-Neglect' at the 51 Venice Biennale.


Ole Scheeren is Partner of the Office for Metropolitan Architecture and Director of the Rotterdam and Beijing offices. As partner-in-charge of OMA's most ambitious project to date, he is leading the design and construction of the China Central Television Station CCTV and the Television Cultural Center TVCC in Beijing. Ole Scheeren is responsible for OMA's work throughout Asia, including the Beijing Books Building and the forthcoming Prada Epicenter in Shanghai. Since 1999 he has directed OMA's work for Prada and completed the Prada Epicenters in Los Angeles and New York. He has led numerous other projects, including the Los Angeles Country Museum of Art LACMA.

Ole Scheeren joined Rem Koolhaas and OMA in 1995 and became Partner in 2002. Previously he worked for architecture firms in Germany; collaborated with 2x4, a graphic design firm in New York; and was engaged in a range of projects through his own studio in the United Kingdom. He has been involved in various art projects and exhibitions, such as Cities on the Move in London and Bangkok, Media City Seoul and the Rotterdam Film Festival. He writes and lectures on a regular basis. Educated at the universities of Lausanne and Karlsruhe, Ole Scheeren graduated from the Architectural Association in London and received the RIBA Silver Medal.


Ellen van Loon is partner in charge of a large number of the projects at the Office for Metropolitan Architecture. These presently include the Casa da Musica concert hall and complex in Porto, the Cordoba Congress Centre and the renowned Mercati Generali development in Rome. After working on the design of the German Reichstag in Berlin for Foster and Partners she was asked by OMA in 1998 to lead the design team for the headquarters building of Universal Studios. She has been a partner of OMA since 2002 and was as such responsible for the award winning Dutch Embassy in Berlin.

Ellen van Loon has a profound understanding of all facets of the architectural practice. She combines a fine feeling for design with a sharp business acumen and in-depth understanding of all technical and operational aspects. She was appointed Managing Partner of OMA in 2004. She redirected her focus to her passion; architecture in the course of 2005.


Reinier de Graaf joined OMA in 1996, where he worked as a project director for 'De Rotterdam' (a 120.000 m2 mixed use building in Rotterdam). In 2002 he became a director for AMO, the think tank of OMA that applies architectural thinking in its pure form to questions of organization, identity, culture and program.

For AMO he has been responsible for the creation and production of the exhibition 'The Image of Europe', that provides a history of European political representation, diagrams Europe's current political structure, and speculates on its possible futures.

Reinier de Graaf has graduated from the Technical University in Delft with an honorary mention and from the Berlage Institute. He lectures on a regular basis on topics related to the workfield of AMO.


Floris Alkemade joined OMA in 1989, where he works since 1996 as a project director for architecture and urban planning. He is now one of the directors of the office. As project architect and project leader he worked in the early nineties on the Euralille masterplan, a 70-hectare business and civic center in northern France hosting the European hub for high-speed trains. The implementation of the masterplan in only four years, including individual buildings by architects such as Nouvel, de Portzamparc, Shinohara and OMA, gave the office's urban theories practical credibility.

Since 1994 he leads the masterplan project for the City Center of Almere, currently under construction. Other projects where he acts as projectleader are the masterplan for the Zeche Zollverein in Essen (Germany), several other urban projects in Europe and Asia and most recently the competition for Les Halles in the center of Paris. Floris Alkemade lectures and teaches at universities in the Netherlands, France and Belgium and for a renowned national art foundation he is a member of the architecture selection committee.


Victor van der Chijs joined OMA in 2005 and is its Managing Director. Next to the day-to-day responsibility for OMA's operations, he is responsible for business development and expanding OMA's activities. Before joining OMA, he was Managing Director of Schiphol International BV, the subsidiary of Schiphol Group responsible for the international activities of the Dutch airport management company. Victor van der Chijs has worked for Schiphol Group in various general management positions in The Netherlands and the United States for over 7 years. Before joining Schiphol Group, he worked for financial institution ING for over 10 years, in The Netherlands and abroad.

Victor van der Chijs holds a master degree in Law from the University of Amsterdam, and has followed extensive post-graduate education at the Amsterdam School of International Relations and at INSEAD, France.




ARCHITETTURE
1988, Netherlands Dance Theater
1989, Patio Villa
1991, Byzantium
1991, Nexus Housing
1991, Villa dall'Ava
1992, Kunsthal
1994, Euralille Masterplan
1994, Lille Grand Palais
1997, Educatorium
1999 - 2005, Casa da Música, Rotunda da Boavista
2004, Prada store
2004, Seattle Public Library
«L'architecture est fonctionnelle par définition, sinon, qu'est-ce que c'est? De la saloperie!» Le Corbusier