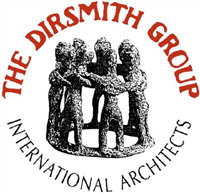 The Dirsmith Group is a world-renowned Design and Consulting Team ... architects, engineers, artisans, sculptors and landscape planners, dedicated to nature and the natural environment.

Missione
It is the Dirsmith Group's goal to achieve comprehensive and responsive design solutions for every project it undertakes. The firm is dedicated to working in a collaborative manner, considering projects as a whole, and tapping the expertise of their creative consortium of architects, artisans, sculptors, engineers, landscape planners and lighting designers.

This dynamic design process - including client, partners and team - results in integrated solutions that are as comprehensive and cohesive as they are creative.

The Dirsmith Group is noted for the uniqueness of its approach and the completeness of its service. They strive to blend timeless sensibilities and time honored craftsmanship with modern needs and opportunities. Their goal for every client is an architectural and environmental design solution that reflects a reverence for nature that nourishes and supports the human spirit and ultimately enriches people's lives.

Descrizione
The Dirsmith Group is noted for the breadth of its design projects and skills. Because of the collaborative approach that is integral to the firm, partners Ron and Suzanne Roe Dirsmith can hand-select and direct the ideal team for each project from among their specialists:

• Architects • Artisans • Sculptors • Engineers • Landscape Planners • Lighting Designers

This results in design solutions that uniquely and comprehensively fulfill the clients needs.

ARCHITETTURE
«Chi segue altrui non gli va mai innanzi.» Michelangelo Buonarroti